About Us
When you have a craving for Asian and Chinese cuisine, try the authentic dishes at the New Oriental Pearl. You can find our restaurant in Magill at 619 Magill Road, right across from Gastronom Gourmet Foods. Our chefs use only the finest ingredients to prepare quality dishes, and you are sure to love the Satay Chicken, Honey Prawns and Seafood Fried Noodle. If you are looking for vegetarian options, we recommend the Stir Fried Vegetables, Braised Mushrooms or Vegetarian Fried Rice. We strive to offer something for everyone at the New Oriental Pearl.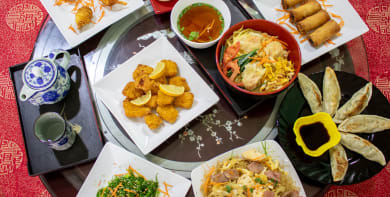 Reviews
Anne
"Really excellent food every time. Lamb ribs salt and pepper crab pork belly... would order them all again"
14/05/2022
Rino
"Very nice rice and noodles"
18/04/2022
Lea
"Best sweetcorn soup in area"
9/04/2022
Melissa
"Tasty food, good quality . We enjoyed it. Will order again 😊"
25/03/2022
Menu
Contact Us
Find Us
619 Magill Road, Magill, 5072
Opening Hours
Monday
5:00 PM - 10:00 PM
Tuesday
5:00 PM - 10:00 PM
Wednesday
5:00 PM - 10:00 PM
Thursday
5:00 PM - 10:00 PM
Friday
5:00 PM - 10:00 PM
Saturday
5:00 PM - 10:00 PM
Sunday
5:00 PM - 10:00 PM
Please note, delivery times may vary.
We deliver to
5065 Linden Park, 5065 Toorak Gardens, 5065 Tusmore, 5066 Beaumont, 5066 Burnside, 5066 Erindale, 5066 Hazelwood Park, 5066 Stonyfell, 5067 Beulah Park, 5067 Norwood, 5067 Rose Park, 5068 Heathpool, 5068 Kensington, 5068 Kensington Gardens, 5068 Kensington Park, 5068 Leabrook, 5068 Marryatville, 5068 St Morris, 5068 Trinity Gardens, 5069 College Park, 5069 Evandale, 5069 Maylands, 5069 St Peters, 5069 Stepney, 5070 Felixstow, 5070 Firle, 5070 Glynde, 5070 Joslin, 5070 Marden, 5070 Payneham, 5070 Payneham South, 5070 Royston Park, 5072 Auldana, 5072 Magill, 5072 Rosslyn Park, 5072 Skye, 5072 Teringie, 5072 Woodforde, 5073 Hectorville, 5073 Rostrevor, 5073 Tranmere, 5074 Campbelltown, 5074 Newton, 5075 Paradise, 5136 Norton Summit, 5140 Greenhill